DJI Osmo Pocket Wireless Module Modification. Problem Solved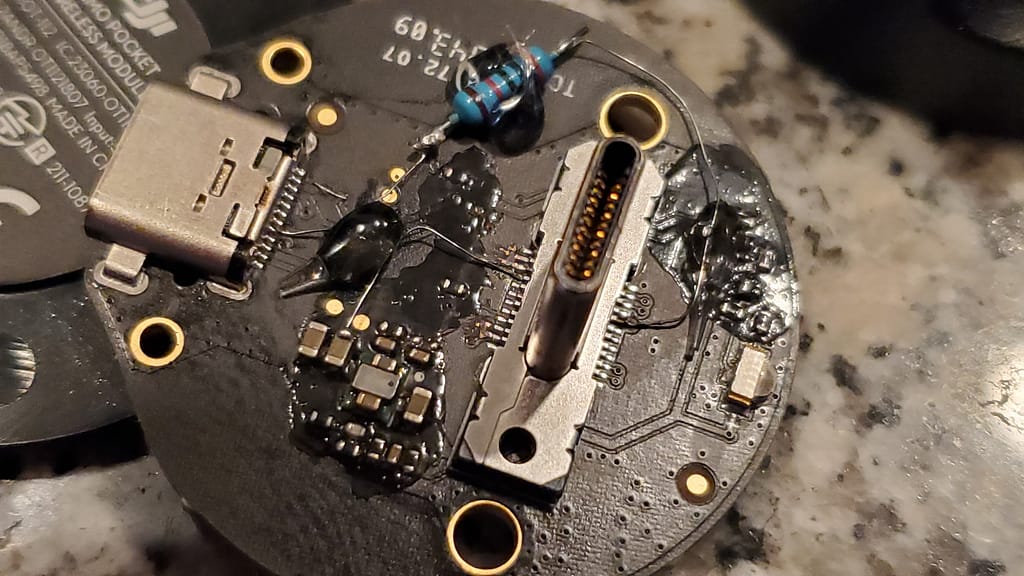 History
You have to test it on a load environment like a band playing. If you test it with normal footage with normal audio and background, it will work. You won't have any issues. I was struggling for a few days in finding for a fix in YouTube or via google. NADA!!! I opened a ticket with DJI but I haven't received a reply yet from their support team.
I started to troubleshoot and was able to find a temporary workaround which I will show in this video. I'm a big fan of DJI for about 5 years now and I've been using their products so this is really not about giving a negative comment about the OSMO pocket. It is just sharing what I noticed a bug and and a temporary workaround until DJI comes out with the latest firmware that hopefully fixes this issue. I've been using the OSMO pocket for about 3 months and I'm really very happy with its performance. The only issue is the audio. I know DJI will work on this on the next firmware or the next OSMO pocket including possibly adding the wireless technology within the device itself so there is no need to use the wireless module.
Subscribe to our YouTube Channel
On Mobile?
Click here to play the April 2019 video
While I have always appreciated the skill that goes into capturing the perfect shots for pictures and videos, I only truly got to experience the wonders of the world of photography and videography when I picked up some of my own filming gear. And I am glad to have picked up this particular activity as a hobby because I have found that I am truly spoiled for choices in this field.
With technology constantly evolving to become better and better with each passing day, there are hundreds of different types of conventional and contemporary filming gadgets that can be used by photographers like myself. Every time I browse through newly released cameras and recording devices, I find myself in awe of just what our tech is capable of doing.
DJI Pocket 2 Creator Combo, 3 Axis Gimbal Stabilizer with 4K Camera, 1/1.7" CMOS, 64MP Photo, Face Tracking, YouTube, Vlog, Portable Video Camera for Android and iPhone, Black
MOTORIZED STABILIZATION: A 3-axis gimbal stabilizes the camera for smooth video on the move. This technology is also great for a crisp photo at any time. The gimbal keeps the camera steady, even for long-exposure shots and in low-light environments.
HIGH IMAGE QUALITY: An upgraded 1/1.7-inch sensor captures images with 64MP photo and 4K video. A sweeping 20mm f/1.8 lens provides a wide, vivid cinematic look.
ENHANCED AUDIO: Consisting of four microphones, DJI Matrix Stereo offers sound recording in different directions, as well as Audio Zoom and SoundTrack, which enhance audio based on the camera's direction and focus
GLAMOUR EFFECTS: Always share your best selfie with Glamour Effects. Boasting a 93° angle view, Pocket 2 allows for more flexible capture and perfectly-composed shots for social media.
AI EDITOR: AI Editor automatically combines your clips with transitions and music to create share-worthy content.
I find it extremely funny when a parent gets asked who their favorite one is out of all of their children and they fuss around trying to explain how they love them all equally when we all know they have a favorite. By children I am referring, of course, to cameras and recording devices. I am a sucker for a good drone shot, the one that pans across the scene and sweeps down from above to capture the essence of that unique perspective. But nothing beats a solid, stable ground shot either.
These recording gadgets are now able to offer so much functionality and versatility, letting you capture professional grade shots with a device that can fit entirely inside your pocket! And that is exactly why the DJI Osmo Pocket is one of my favored cameras. I have owned a DJI Osmo Pocket for several years now, and I may have used it more than any other recording device in my gear because of how adaptable and high quality it is. It really is kind of a one fits all type of scenario. I have used it on the ground, in the air, in the middle of a desert, and beyond, and almost always come out of the editing station inspired by some of the shots it enables me to freeze-frame to cherish forever.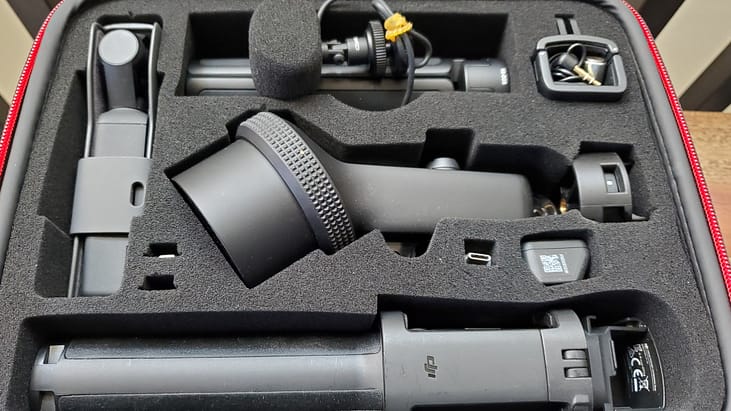 August 2020 – No Fix Yet from DJI
Unfortunately, such is the nature of technology that you are bound to run into a technical error one time or the other. The same can be said for my DJI Osmo Pocket device. Keeping all of your tech devices up to date is extremely important to ensure their optimum functioning. So when the latest firmware update v01.06.00.30 came out for the DJI Osmo Pocket, I updated my device.
As I was recording, however, I noticed that there were some major problems with playback. The quality of the audio after I updated to the latest firmware version was incredibly dodgy- the sound is choppy, comes out in little, discontinuous bits, and gives you nothing to work with because it sounds like an absolute mess! If you are like me, I can only imagine how freaked out you must feel if you experience thi bug as well, thinking that you somehow broke the device! Thankfully, this issue is a bug within the firmware that can be solved with a workaround- at least for a time being.
If you think that your Pocket device may be experiencing the same issue, make sure that you run a diagnostic test yourself to confirm this problem before you search for a workaround. The audio works fairly fine in low noise settings but in high load environments, it starts to lose the plot. I tested out my device on a live band playing some great music (which I failed to listen to a second time because of the messed up audio in the footage).
The Culprit
Understandably, I ventured out into the seas of the internet in hopes that someone else had faced a similar issue with the DJI Osmo Pocket in the past and had figured out a way to make the audio work despite the bug. Much to dismay, however, I did not find any solutions to this problem. So I took to DJI themselves to communicate the problem I was facing and hopefully find a solution. But when they didn't get back to me soon enough, I decided that I might as well troubleshoot the device on my own and check out what the issue may be so that I can make it work, at least until I get professional help from the support team at DJI.
Here is a solution that worked for me to fix the audio. Launch the Osmo Pocket and tap on the three little dots at the bottom. On the top left, click on Pro. Here, find the option for Noise Reduction and make sure that it is turned off or removed. Now you can test the device by recording something in a loud environment again and listening back to the audio. It definitely worked for me the first time around and fixed the audio bug that was annoying me after the firmware update so you might want to give it a try.
Unfortunately, the workaround didn't last very long and I found that a couple of weeks later, after I had installed another firmware update, the internal microphone of the Osmo Pocket device just stopped working altogether.
I set about wondering once again how I could make it work this time and I had the idea of using an external mic with the wireless mobile module of the DJI Osmo Pocket since the internal mic was not working. I could simply connect an external microphone with the charging port and use that to record the audio instead. However, the problem with this idea was that the wireless mobile module of the Osmo device does not work in tandem with an external mic by default. So you have to tug at some strings and hack your way around to make this workaround functional.
The Solution – Problem Solved – Watch The Video Below
Subscribe to our YouTube Channel
On Mobile?
Click here to play the Aug 2020 video
Other Blogs
We have other Blog reviews that can help you on your search. Feel free to visit our Blog page for more information. Contact Us for product review request and inclusion consideration.
DISCLAIMER:
Blog Your Niche is a participant in the Amazon Services LLC Associates Program, an affiliate advertising program designed to provide a means for sites to earn advertising fees by advertising and linking to amazon.com. I may earn a small commission for my endorsement, recommendation, testimonial, and/or link to any products or services from this website.
This means if you click on an affiliate link and purchase the item, we will receive an affiliate commission. The price of the item is the same whether it is an affiliate link or not. Regardless, we only recommend products or services we believe will add value to our readers. By using the affiliate links, you are helping support our Website, and we genuinely appreciate your support.