Does Your Blog Need A Niche?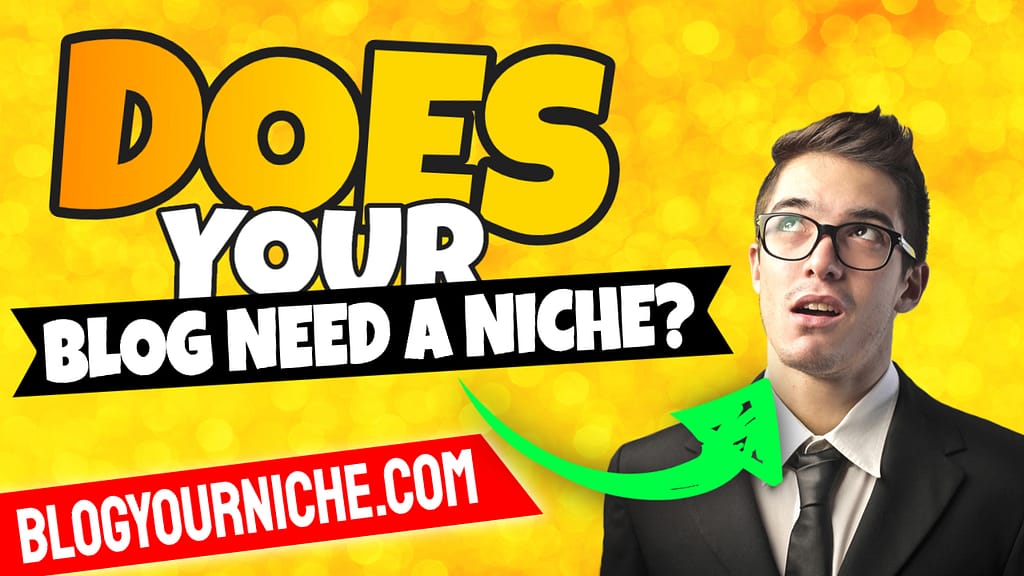 Greatest Thing About The Internet
As we continue to move into an era that is becoming increasingly dependent and focused on technology, there are numerous new avenues that are opening up for people like you and me to capitalize on. The internet and digital devices that you can use to access the wide world of the web have become staples in most individual's lives and it is difficult to imagine a routine where you do not spend a good portion of your day browsing the web for either work, learning, or pleasure.
What is arguably the greatest thing about the internet, apart from accessibility and convenience, is that there is almost no restriction or limitation in regards to content. Not only can you consume seemingly endless amounts of material on the web, but you can also start dabbling in content creation regardless of whether or not you have prior experience. One of the vessels that people use to put their word out in the online world is through personal and public blogs.
With time, blogging and vlogging have become actual, serious career paths for many people who are interested in creating daily content for the consumption of the general public. The internet makes the job easy as well, what with the plethora of different platforms and media sites available for you to post your blog for people to surf through. The difficult part, however, is building a dedicated audience and then sustaining it.
Should Your Blog Have A Niche?
If you choose to go through some guides or articles with tips and tricks on how to make your blog more successful and visible, one of the recommendations always seems to be to 'define your niche'. The question is, what exactly is a niche in relation to blogging and why should your blog have a niche after all? Does it need to have a niche to be successful? And how exactly do you go about choosing one for yourself? This article will attempt to answer all of these questions for you.
To begin with, you need to understand what a niche is. While you will have already chosen a field or area that you want to post about, a topic that is either relevant to your interests, skills, or business, it is important or you to narrow it down to a very specific specialization. The more specific you become in the kind of services or information you can offer to your readers, the better chances you have at cultivating a dedicated audience that regularly strives to consume the content you put out.
For example, you could be blogging about interior design, but considering just how broad this term is, readers may be turned away from your content because it is vague and does not answer their questions. You can narrow it down to a micro niche by specifying certain aspects of how you operate in the world of interior design, such as the location, style, or type of settings you expertise in.
The Benefits Of Choosing A Niche For Your Blog
We have moved past the times where all traffic used to be considered good for your online ventures. The better approach to a digital strategy would be to market to a rather targeted group of individuals. Individuals who are much more likely to be interested in your content. People these days usually turn to the internet to find solutions to some very specific problem and they will likely stick to your services if they find that you have given them the exact answer they were looking for. It saves them the time and effort they would otherwise have to spend navigating through tons of irrelevant material. There are very individuals out there who would take the time to sift through your ramblings about every other thing in the world after stumbling onto your blog and deciding they want to read more.
Not only does a micro niche on your blog help you establish a sizable and reliable consumer base, but it also establishes you as an expert in that particular topic, lending your status in the community a lot of credibility and trust from the readers. This, in turn, increases the chances of your blog being recommended to other people who may require similar information.
The smart thing to do would be to start off with a specific niche for your blog. Once you have built a rapport within your community, you can start to branch out and expand the topics you cover. This would allow you to organically dive into further aspects of your field that you are passionate about and simultaneously easing your established audience into it by introducing them to new concepts and ideas.
Lastly, but most importantly, narrowing down the content on your blog to a specific niche also lends a lot of benefit to the content creator, which is you in this case. The niche that you select will obviously belong to an area that you have a lot of expertise in. It is easier to come up with content ideas and interesting subject matter when you know exactly what you are talking about.

My Favorite WordPress Page Builder
Beaver Builder Customer Support
When WordPress was updated to the latest version most recently, I encountered issues with other plugins but Beaver Builder was ready and compatible before the latest version of WordPress was updated. Great Job Beaver Builder and keep it up!
Click here to try the Best WordPress Page Builder Plugin Beaver Builder.
On Mobile?
Click here to watch the video
We know you are busy with your business and may not be available to create your website.  Our goal is simple – to help you gain the visibility and credibility you require to successfully navigate the online world as an entrepreneur or creator. We understand just how much of a struggle it can be to launch and sustain a venture in the contemporary world. That is why we are extending our hand to you with an opportunity to expand your reach through us. Blog Your Niche is here to provide assistance. Feel FREE to contact us for details.
Our staff are friendly and will guide you end to end. You will have your professionally looking website up and running quickly. You'll be able to focus on your business and you can trust us that we will leverage all of our tools and experience to get your company the online visibility that you deserve.
How To Choose A Niche For Your Blog?
When trying to choose your niche, you need to determine what your area of expertise is and what subjects you are passionate about. You will want to stick to a topic you enjoy writing and talking about so you can commit to it for the long haul. Another good idea would be to refer to your stats and analytics to see what kind of topics drive the most engagement on your existing blog.
Next, you need to focus on driving organic traffic to your site and to do so, you need some effective keywords that are specific to your new niche. There are a number of tools, such as Google's Keyword Planner, that you can use for this purpose.
You will also have to focus on the formatting of your blog. If you already have a bunch of content on there, start off by organizing it into various tags and categories. If something veers extremely off subject, it is best to simply get rid of it or maybe save it for a later time.
Other Blogs
We have other Blog reviews that can help you on your search. Feel free to visit our Blog page for more information. Contact Us for product review request and inclusion consideration.
Disclaimer:
Blog Your Niche is a participant in the Amazon Services LLC Associates Program, an affiliate advertising program designed to provide a means for sites to earn advertising fees by advertising and linking to amazon.com. I may earn a small commission for my endorsement, recommendation, testimonial, and/or link to any products or services from this website.
This means if you click on an affiliate link and purchase the item, we will receive an affiliate commission. The price of the item is the same whether it is an affiliate link or not. Regardless, we only recommend products or services we believe will add value to our readers. By using the affiliate links, you are helping support our Website, and we genuinely appreciate your support.