Surfing The Sky – Cessna 172
Flight Day Over Arizona in a Cessna 172
Surfing the sky
From the unbelievably vast Grand Canyon to the incredibly striking Monument Valley, Arizona is not short of spectacular sights that leave your mouth gaping in shock and wonder, a chance to experience the sheer amazement at taking in some of nature's greatest works of art.
The beauty of this state does not just end there, in fact, you will find strange aesthetic pleasure in the way the city blocks arrange themselves around each other in sharp quadrilaterals, how these rigid structures are broken apart periodically because of plains of grassy fields, and the way the occasional skyscraper juts out, up into the endless sky in stark contrast to its surroundings. And all of this splendor is best experienced from a bird's eye view.
BEST FLIGHT DAY EVER
We are like ants roaming around song blades of grass, limited in our vision and understanding when we stroll about in the streets. Sightseeing truly takes on a whole new meaning when you are seeing the sights from up, up, above, like an eagle flapping its wings twice and then gliding over the air waves, peering down at the world that bustles beneath its flighty wings. I was fortunate enough to get to experience this incredible perspective firsthand recently.
My good friend Angelo happens to be a pilot and we organized a flight day over Arizona where we would take in the city of Phoenix from a unique angle and give my vlog viewers an opportunity to do the same along with us. My son, Josh, was equally as excited to tag along for what proved to be an exhilarating day of surfing the sky. Here is how it all went down:
The Cessna 172
The sight of the ground quickly becoming smaller and smaller until it remains but a distant memory, lost among large buildings that appear no larger than the little boxes on a graph paper certainly takes your breath away. But I would be lying if I said I wasn't equally as enraptured by the machinery that was hauling these three bodies in the air.
The Cessna 172, also referred to as the Skyhawk, is a four seater American aircraft that is manufactured more than any other aircraft in the world. That may be part of the reason why so many people learn how to fly it on their own, including Angelo. At first sight, it looks like a motor boat that has sprouted wings- and isn't that a thought enough to light your blood with fear and excitement alike. It looked sleek and slender, relatively small since it was only designed to carry four passengers at the max.
[amazon box="B07LHC91QC"]
In recent times, I have started to find my interest piqued by certain activities and aerial photography has been one of them. Just the idea of getting to visualize things from a vantage point that high up in the sky is absolutely fascinating to me. As well as the ability to be able to capture these scenes so easily to cherish for years and years to come. That is why I brought along some of my recording devices with me for this trip.
I had with me the DJI Osmo Pocket, which is an advanced, handheld recording camera with 3-axis stabilization. I knew it would be perfect to capture gorgeous, panning shots even as we experienced movement during the flight. And considering how small it is, I would have no trouble holding it up when recording.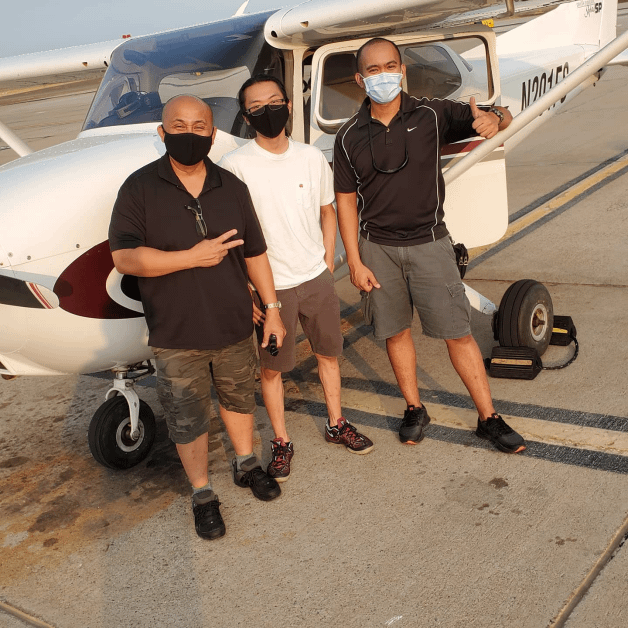 Pre-Flight Check
We hung out with my friend in the control center for a bit while he took care of the semantics for the flight. Then we headed out to the hangar at Goodyear Airport to set up and board the plane. We got to see my friend go through the well rehearsed pre-flight check where he ensured everything was in order. Since all of the settings on the control board of the plane were analog, he installed a device that would hold a moving digital map for ease of use during the flight. I also took this time to set up my DJI Osmo Pocket camera for what was to come.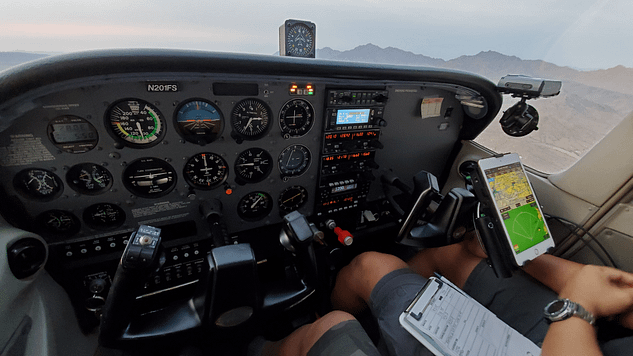 Engine Start
The next step was to get all strapped in and let the maestro work his magic. He flicked a few switches, checked a few things, turned the keys, and brought the engine to life.
Take Off
Once Angelo was satisfied with the controls, Angelo started to motor down the runway and I couldn't help but hold tight as the wheels of the Cessna 172 started to lift off of the ground despite being securely strapped in. something about being in that small of a plane next to the pilot felt so intimate and different than being a passenger in a commercial flight.
The flight itself was smoother than I had imagined it would be, with Angelo maneuvering the controls of the plane masterfully while it all appeared to be nothing more than random numbers and lights to me! I could peer directly out of the window of the plane as well as through the pane at the front as we glided through the air, marveling at just how tiny everything appeared.
It would have been easy to let everything pass by in a blur in excitement, but we made the effort to identify what we could. We saw downtown Phoenix, still void of the bustle that fills the streets at later hours. We also went to see the beautiful Sky Harbor International Airport as well as the I-10 Freeway among numerous other landmarks and locations all across the region. But one of the most beautiful sights for myself and Josh was the image of a freshly rising sun, still a deep but tender orange, spreading a cacophony of colors across the blue sky. It woke me up better than caffeine ever could.
Landing
By the time we were done, I had seen enough of Angelo's flying skills to be confident that he would safely land the Cessna 172 on the runway and he delivered. Touch down was equally as exciting as the take off because of the promise it brought with it- the promise that we undoubtedly would be doing this again, and very soon at that.
Our next destination is going to be the marvelous Grand Canyon as I hope to record an aerial perspective of that mammoth world wonder. The plan is to adhere a GoPro Hero 8 to the top of the plane along with a 360 degree GoPro Fusion camera on its belly for all-encompassing recording. Needless to say, I cannot wait for our next flight day!
[amazon box="B07WSRXMS8″] [amazon box="B0792MJLNM"]
Other Blogs
We have other Blog reviews that can help you on your search. Feel free to visit our Blog page for more information. Contact Us for product review request and inclusion consideration.
DISCLAIMER:
Blog Your Niche is a participant in the Amazon Services LLC Associates Program, an affiliate advertising program designed to provide a means for sites to earn advertising fees by advertising and linking to amazon.com. I may earn a small commission for my endorsement, recommendation, testimonial, and/or link to any products or services from this website.
This means if you click on an affiliate link and purchase the item, we will receive an affiliate commission. The price of the item is the same whether it is an affiliate link or not. Regardless, we only recommend products or services we believe will add value to our readers. By using the affiliate links, you are helping support our Website, and we genuinely appreciate your support.