Norinco MAK 90 AK 47 Pre Ban and Post Ban | 922r Compliance For AKs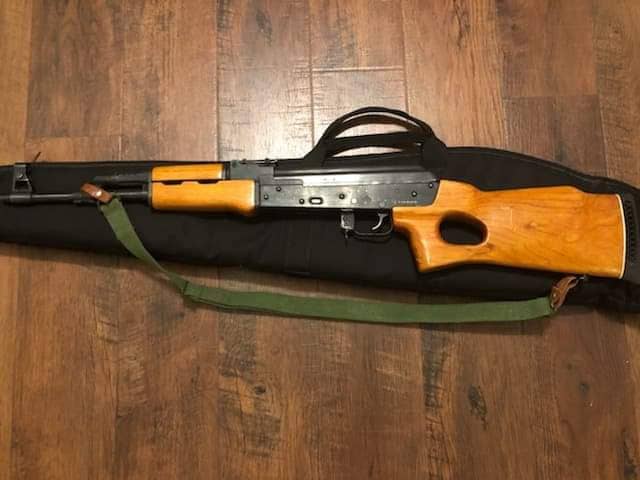 NORINCO MAK 90 AK 47 VARIANT – MADE IN CHINA
Products and items that have been manufactured in China tend to get a bad reputation and, most of the time, deservedly so. These fast tracked, quickly crafted products tend to be cheap, fragile, and faulty, designed to last you only a couple of months of dwindling functionality at their best. But if there is one thing that the far eastern region is known to be good at making, it is the Automatic Kalashnikov.
SD3-9x24 with Side Rail Mount Side Scope Mount
Fits Dragunov Series guns by Side Mount Rail.
Red Illuminated rangefinder Reticle.
Windage and elevation adjustments will change the reticle position in the image.
Build-in objective lens cover, packed with free eyeshade.
Nitrogen purged scope body, completely sealed with o-ring, rendering scope Waterproof, and fog proof
The Chinese AKs- Type 56 Rifles
Chinese AK rifles are used all across the globe and are renowned for their durable design and formidable accuracy. The design of Chinese AKs is different from the rest and ensures simplicity, convenience, and efficiency for the shooter, a smooth firing mechanism along with a satisfying trigger.
First made in 1956 at State Factory 66, the Chinese AK was modeled after the Soviet based Type 3 AK 47. These Chinese rifles were also known as Type 56 Rifles. The Type 56 Chinese AKs were used extensively in the time of the Cold War, shunted off as military exports to guerilla forces all around the world. They have been reported to have been used in Africa, parts of Europe and Asia, as well as the Middle East.
Norinco Takes The Reins
Eventually, Norinco took over the manufacturing process of the famed Chinese Type 56 AKs. They produced a number of new models, but the most well-known and commonly used one has to be the MAK 90 assault rifle. The Norinco MAK 90 AK 47 came with a milled and stamped receiver with two variations (angle cut and straight cut), and also offered options in regards to the calibers.
Pre Ban Norinco MAK 90 AK 47s
When it comes to Type 56 assault rifles in the United State, you will find them used and displayed liberally in movies and TV shows. These pre ban Norinco rifles were available in a number of variations that were developed overtime. While they used to come with a milled receiver initially, it was changed to stamped in the mid 1960s. Subsequent iterations of the Chinese AKs were similar to the Russian AKM,  along with modifications to further improve on the design. These included side folding stock, chrome plating on the bore and chamber, under folding bayonet, and modifications in the barrel and muzzle cap.
MidTen 7.62x39mm Bore Sight Red Dot Boresighters with Three Batteries
Class IIIA laser, less than 5mW
Made to fit the 7.62x39mm chamber, caliber specific.
Comes with 1 set batteries (3 AG3/LR41 batteries) which can last one and half an hour.
Easy to sit perfectly in the bore. Sturdy brass construction. Fast gun zeroing and sighting.
High accuracy to reduce cartridges and shells wasted, sighting range of the bore sight is 15 to 100 yards.
In 1994, a ban was placed on the manufacture, transfer, and possession of semiautomatic assault weapons as per the Public Safety and Recreational Firearms Act under the Violent Crime Control and Law Enforcement Act of 1994. Under this act, all models of the Norinco Chinese AKs were banned from being imported into the United States for civilian use as they did not pass the sporting purposes test. This ban carried over until September of the year 2004. During this time, the NHM 91 model of the Norinco AK was released and became popularized. The NHM 91 was an RPK style rifle that has a 20 inch heavy barrel and worked with a stamped receiver.
After the ban was placed, manufacturers found a way to get the MAK 90s into the country legally by removing certain firing abilities that did not comply with the legislature. These versions of the Norinco MAK 90 AK 47s are also known as Sporter rifles and they can be legally owned, sold, and purchased by citizens of the United States provided they uphold the relevant laws and regulations associated with the firearm. The post ban Norinco MAK 90s have non threaded barrels, no bayonet lugs, and thumbhole stocks instead of pistol grip stocks. It typically does not have a compensator either and comes with a smooth dust cover. A rectangle slot in the receiver indicates that the rifle has a milled construction.
The goal of the sporter of a firearm is to essentially reduce their destructive capability which is typically useful in a military type setting. Since such use is discouraged on a civilian level in the United States, certain changes have to be made to the firearm to make them better suited for sporting activities or for basic protection purposes at best.
Other times, sporter is done to get around firearms restrictions that have been implemented by the legislation. This makes certain features on firearms unacceptable for civilian use in the country, and so they have to be removed or limited to make them legislature compliant.
The above mentioned changes in the construction and build of the MAK 90 has ensured that these guns can still be traded and used by civilians for sporting purposes within the United States. I have had some experience using it as well when I visited a shooting range with a group of my friends and got some pretty accurate hits with a Norinco MAK 90 AK 47 in a long range setup (about 120 yards).
My Experience With A Post Ban Norinco MAK 90 AK 47
I, personally speaking, am also a pretty big fan of the Norinco MAK 90 AK 47. When I decided to buy a rifle for myself during this COVID-19 era, I was fortunate enough to be contacted by a good friend who was selling a MAK 90 AK 47. It was a Sporter so I knew that it has been modified to comply with the United States firearm requirements. I took care of all the required paperwork and legal issues so I could purchase the rifle from my friend according to the laws of the Arizona state.
Luckily for me, I got a barely used MAK 90 AK 47 for a pretty reasonable price from a source I completely trusted. Once I had the Norinco gun in my hands though, I saw that I wanted to make a number of changes to it. I have recorded a detailed account of the modifications I made to my new Norinco MAK 90 AK 47 to upgrade it while adhering to the 922r compliance requirements. You can find all of my research and first-hand experience right here.
Other Blogs
We have other Blog reviews that can help you on your search. Feel free to visit our Blog page for more information. Contact Us for product review request and inclusion consideration.
Disclaimer:
Blog Your Niche is a participant in the Amazon Services LLC Associates Program, an affiliate advertising program designed to provide a means for sites to earn advertising fees by advertising and linking to amazon.com. I may earn a small commission for my endorsement, recommendation, testimonial, and/or link to any products or services from this website.
This means if you click on an affiliate link and purchase the item, we will receive an affiliate commission. The price of the item is the same whether it is an affiliate link or not. Regardless, we only recommend products or services we believe will add value to our readers. By using the affiliate links, you are helping support our Website, and we genuinely appreciate your support.