What's The Hype About Google Stadia?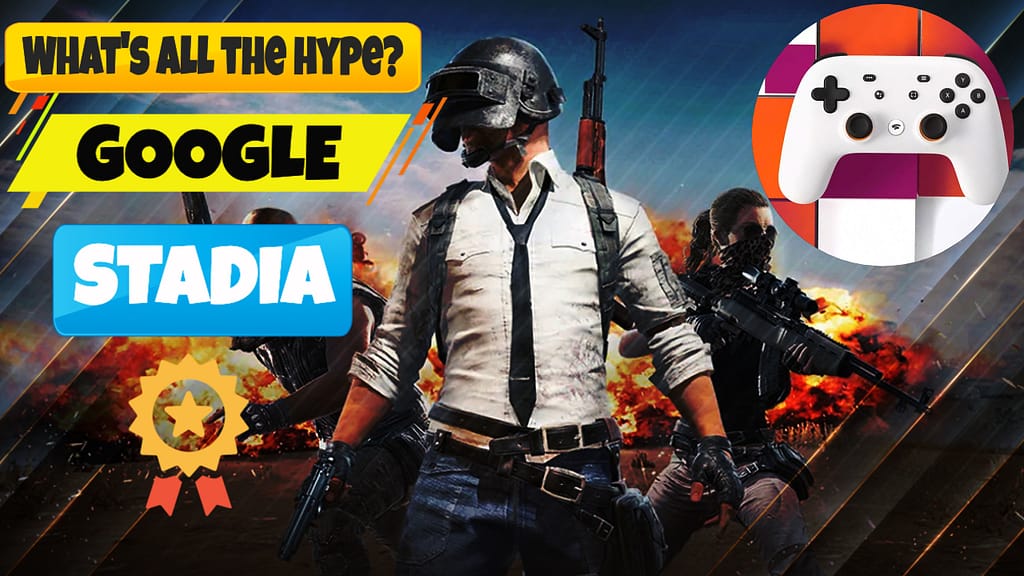 Will Google Stadia Completely Change The Way We Game?
On March 19th, 2019, a fine day at the GDC 2019 in San Francisco, Google introduced a gaming device that is, undoubtedly, going to completely change the way we game. A gaming device so powerful, innovative, and unlike any other currently available in the market, that it is being predicted to leave major console manufacturing companies in the dust. In fact, many have already pronounced the incoming end of gaming over the PC and the internet or even on the PlayStation or Xbox platforms.
But what exact features does the new Google gaming device have that it is being touted around like it may just be the next best thing since sliced bread? Well, here is your in depth look of what makes the brand new and shining Google Stadia so special and domineering.
Sale
Google Nest Wifi - Home Wi-Fi System - Wi-Fi Extender - Mesh Router for Wireless Internet - 2 Pack
This product includes 2 router units.
Nest Wifi is a scalable and flexible Wi-Fi system. These Nest Wifi devices work together to blanket your whole home in fast, reliable Wi-Fi and eliminate buffering in every room – with coverage up to 4400 square feet.[1]
1 Wi-Fi router plugs into your internet provider's modem to create your Wi-Fi network. The other extends the wireless network and keeps your connection fast to devices in every room. For more coverage, add Nest Wifi routers or points to your system.
Nest Wifi routers are strong enough to handle up to 200 connected devices, and fast enough to stream multiple 4K videos at a time.[2] Compatible with Google Wifi; Ethernet ports included on each router. 15W power adapter.
Intelligently works behind the scenes to make sure your Wi-Fi remains fast.[3] Walk from room to room on a video call with an uninterrupted signal. Nest Wifi automatically updates itself to get new features and help your network stay safe and sound.
We live in some of the most quickly developing times, technologically speaking, the rate of development and successful innovation across the board in a multitude of various fields and departments is exponential and unprecedented, and most of it is actually accepted by many with open arms as it simplifies operations, makes them much more efficient, and produces loads of convenience in routine and professional lives.
One of these major technologies is the cloud, which has seemingly integrated itself into most, if not all, fields and niches, transforming the way businesses conduct their processes and manage their operations.  With the cloud, you no longer have to worry about physical infrastructure and the problems that come associated with it- you simply utilize the resources and pay a relatively affordable fee to a third party vendor who maintains and manages the servers for you, ensuring the security and the integrity of your data. As such, it is no surprise that the world of gaming is taking a similar step towards the world of the cloud as well.
While most people expected that we would be turning towards the very real possibility of cloud gaming in the future, no one expected it to come this big this early, which is why the news of the Google Stadia, which uses the cloud to store all data associated with the offered games and the users, worries console manufacturers. Especially since the former is set to cost lesser than what consoles such as the Xbox are sold for. This has put many large tech companies on the back foot, looking for an offense in order to stay relevant. Just like Netflix has taken the world of entertainment by storm, directly impacting movie ticket sales and encouraging the culture of streaming rather than purchasing physical copies of your favorite movie or TV show, Google Stadia will be aiming to shift all gaming to the cloud, ridding gamers the need to manage an expensive console or subscribe to other streaming services.
Sale
Orzly Phone Mount Clip for use with Google Stadia Controller
Google Stadia Phone Mount: The Orzly Phone Mount Clip is custom designed for use on your Stadia controller
Gaming in Comfort: You can now use your Stadia controller in comfort whether at home or gaming on the go
Adjustable: The phone mount can be adjusted to give the perfect viewing angle and minimise glare
Perfect for any Smartphone: The Stadia controller Phone Mount is compatible with iPhones and most other Android smartphones
The Orzly Stadia Phone Mount is compatible with Google Stadia Controllers only
Google Stadia in actuality is a streaming platform which does not require you to connect it to a console or any other form of machine or service in order to work and help you play games with top notch quality. When it comes to the hardware or instruments and machinery you will need to play games with your Stadia, all you need is the Google Stadia controller which connects to the the Google cloud through the Chrome browser and enables you to access the console like gaming sphere with the same, if not better, quality and graphics- what more could you possibly ask for as a gamer! The creators of the technology, as said by Phil Harrison who is part of the creative team of the Google Stadia, aim to make this platform a product of the convergence of gamers, developers, and content creators, endowing them the capability to game, stream, and connect.
What this translates into in layman's terms is that regardless of the quality of your electronic device, you will be able to access the highest quality graphics and action through the Google console as all the work is being done at the level of the data centers. As such, you can pull out your oldest laptop or PC- the one who's back extends out several inches and isn't as flat as a thin book like all of the other desktops you see everywhere, and still be able to play with amazing visuals by simply clicking on a link on your browser.
Sale
Google Wifi - AC1200 - Mesh WiFi System - Wifi Router - 4500 Sq Ft Coverage - 3 pack
Google Wifi is a scalable flexible mesh Wifi system that blankets your home in reliable coverage and keeps buffering at bay; 1 Google Wifi point replaces your router and additional points expand your network to keep the connection fast in every room[1]
Google Wifi gives you whole home coverage; 1 Pack covers up to 1500 square feet and 3 Pack covers up to 4500 square feet; points work together to create a mesh network for more coverage
Intelligently works behind the scenes to make sure your Wifi remains fast so you can stream with speed[2]
Simple setup in a few steps; use the Google Home app to create your network and get online in minutes[3]
Parental controls let you manage screen time, restrict certain kinds of adult content, and pause Wifi to specific devices on your mesh network whenever you want
'Connect' is one of the best and most ambitious features of the new Google Stadia as the creators explained how they want the platform to allow developers to use the Stadia to create multiplayer games that span across a multitude of different devices such as PCs, tablets, phones, and TVs, creating an experience like no other that is also extremely convenient and easy to obtain.
Another integration that the creators of the platform are looking to encourage is that with YouTube. There is no doubt in the fact that YouTube is one of the biggest media platforms in the world today and harbors a huge population of content creators as well as watchers that religiously post on and visit the website. A big part of his community is also attributed to gamers and people who enjoy watching playthroughs of these games down by their favorite creators. One of the most subscribed to and famous stars of YouTube, PewDiePie, even started out as a gamer on the platform until he branched out to other forms of content. These gameplay live streams have been garnering more and more viewers and increasing in popularity over time as millions of people tune in to watch gameplays on YouTube and other streaming websites such as Twitch. Google Stadia plans to capitalize on this phenomenon and make it much easier for viewers to interact with the player and produce an even stronger sense of community. This feature is being called 'Crowd Play' as, upon the instruction of the original player or streamer, you can join in on the game from your device, sitting in your own home, and play along with the streamer, giving a whole new meaning and purpose to the gaming community. The YouTuber can then create a 'queue' of sorts where once one person fails against them, another viewer gets the chance to compete against them in the same game, creating a fun and competitive online environment between the streamer and the watchers.
Not only that, but you can also use a similar feature, the 'State Share' where you save the current state of your game and share the gameplay with your friends if you want to. This means that you can capture a specific moment in your gameplay as a simple link which can then be sent to anyone and run by them on their own browser.
A great feature is that Google will save your progress in the case that you were to be disconnected all of a sudden. This is great since internet outages are fairly common and getting rid of the worry of having all of your progress go down the drain is a huge relief.
Producing facility in the lives of the average gamer or content creator is open of the main aims of this new console, as it offers much greater capability than it costs, a much more cost efficient deal than its competitors in the current market.
However, it must be kept in mind that in order to extract the best functionality and quality out of the device, you will have to have a strong, unwavering internet connection that can actually carry and transmit the heavy lifting that the platform is doing. According to Google, you will need an internet speed on 25 megabits which will enable you to stream games at 1080p and 60 FPS. This speed requirement means that the Google Stadia might not work as optimally as Google intended it to in major parts of the world's population such as in India where the internet speeds are generally relatively lower.
Google Pixelbook Go - Lightweight Chromebook Laptop - Up to 12 Hours Battery Life[1] - Touch Screen- Just Black
Good to Go: Pixelbook Go lets you stay unplugged for up to 12 hours [2] so you don't need to carry a charger. And when you do need a charge get up to 2 hours of use in just 20 minutes so you can keep going. [3]
Made to move Pixelbook Go is lightweight - Barely 2 pounds It's 13 millimeter thin with a grippable design making it easier to carry [1]
Get it done Fast: Pixelbook Go starts up in seconds and makes working a breeze. The 8th Gen Intel Core Processor is quick and responsive powering everything you do. And Chrome OS doesn't slow down over time so it always feels like new. [6]
Go without worry: Pixelbook Go is designed to prevent things from getting off track. The Titan C security chip and built-in anti-virus software help protect your data. And Chrome OS updates automatically with the latest features and security. [5]
Built for comfort: A backlit keyboard and Hush Keys make using Pixelbook Go comfortable and quiet. The touchpad is spacious and accurate so you only need to use a light touch. The fan less design stays cool to let you comfortably use it on your lap.
HOW DOES GOOGLE STADIA ACTUALLY WORK?
Considering just how much it can do, you must be wondering how exactly this revolutionary device, or more appropriately: phenomena, actually works. According to Google, the enterprise has thousands of data centers that are located across over 200 territories and countries. These data centers essentially host the cloud or sphere within which the entire gaming action, sharing, and creation will take place and will be accessible to anyone and everyone with the Google Stadia controller and a Chrome browser on any of their electronic devices. These data centers are prepared to deliver a gaming experience like no other with a resolution of up to 4K and a frame rate of up to 60 FPS with high definition graphics. All of this with absolutely no lag time. And if this is not good enough for you, then Google actually plans to up their game and set the bar even higher, looking to create a gaming experience with 8K resolution and 120 FPS. the lowest graphics quality that the Stadia works with is down to 720p.
Google does all of this with the help of AMD, a very successful and renowned processor manufacturing company that has taken the world by storm and become something of a standard in high quality processing electronics. AMD has created a specialized GPU for the Google data centers which helps transmit over 10.7 teraflops of power at a time, a huge improvement over the 4.2 teraflops of PS4 Pro and the 6 teraflops of the Xbox One X.
Google Nest Thermostat - Smart Thermostat for Home - Programmable Wifi Thermostat - Snow
ENERGY STAR certified smart thermostat for home that helps you save energy and stay comfortable.Product note: You can also check your system's compatibility before purchasing a Nest thermostat with our online Nest Compatibility Checker on the Google Nest support page
The Nest Thermostat is designed to work without a C wire in most homes, but for some systems, including heating only, cooling only, zone controlled, and heat pump systems, you'll need a C wire or other compatible power accessory. Lock feature: No
Nest Thermostat turns itself down when you leave, so you don't waste energy heating or cooling an empty home; easily program an energy efficient schedule in the Google home app on your Android or iPhone
Remote control lets family members change the thermostat temperature from anywhere on a phone, laptop, or tablet[1]
Savings Finder looks for more ways your thermostat can help you save, and suggests tweaks to your schedule in the app; check with your energy provider to learn more about rebates and more ways to save on a Nest thermostat
WHAT GAMES WILL YOU BE ABLE TO PLAY ON THE GOOGLE STADIA?
While there have not been any announcements by Google regarding what games will be available for playing on the new platform, it is largely expected that a huge chunk of exclusive games will be released. The first party studio of Google Stadia will be lead by Jade Raymond who is a former executive at Ubisoft and Electronic Arts. it will certainly take some time for the Stadia to have an exclusive, high quality, and interesting set of games but we can expect it to be spectacular once the list does come out.
So far, Google has announced that over a hundred different game production companies have been sent a variety of building and developer tools to help build exclusive games for the console. In other news, id Software also announced that Doom Eternal will be compatible with the Stadia and a representative ran a demo of the game on the device with quite a bit of fluency.
On the other hand, Google has been working in partnership with a whole host of successful and renowned video game developers including the likes of Unreal, Havok, and Unity, hoping to create truly stunning and interesting games that will grab the attention of gamers and keep them interested in the new platform. They also plan on working with relatively smaller developers in exchange for financial incentives in order to extract the best out of the talent pool available in the world today.
WHAT WILL THE IMPACT OF GOOGLE STADIA BE?
In terms of the features and functionality that the people at Google and the creators of the new console have suggested, it seems as if it will certainly be something absolutely unlike what we know right now. On paper, one would feel that it certainly has the potential to outpace, outsell, and outperform all other forms of gaming platforms and streaming services running today but the truth remains that it all remains to be seen in actual practice. For all the bragging that Google might be doing right now, who knows, it might end up shutting down production of the console a few months or years after release due to the same issues they claim to have employed preventative solutions for.
On the other hand, even if the Google Stadia does end up living up to its claims and introduces a whole new phenomenon in the gaming sphere, many gamers might be a bit too reluctant to give up the immersive worlds they are already a dedicated part of with their Xboxes and PlayStations. It takes a lot of time, commitment, and investment to create video game worlds that gamers actually find worthwhile and are willing to leave what they have stuck with for the past few years to jump onto it. As such, Google will have to work hard and fast to develop games with spectacular graphics and strong worldbuilding if it wants to compete with the market leaders in terms of exclusive video games, one of the primary attracting points of any gaming console or streaming service.
Another great feature is that Google will save your progress in the case that you were to be disconnected all of a sudden. This is great since internet outages are fairly common and getting rid of the worry of having all of your progress go down the drain is a huge relief.
WHAT IS THE CONTROLLER LIKE?
The Google Stadia controller is a standard, usual controlling device for gamers but has a few different features that make it stand out a bit. For one, it is completely wireless and does not need to be tethered to the console in any way, physically or through the internet. It does, however, connect to the Google cloud through Wi-Fi. For another, the controller also has specific buttons that are dedicated for specific functions such as a button pressing on which will allow you to directly stream your gameplay through YouTube, and a button using which you can get in touch with help from the developer.
Google is also making playing video games an easier and more fun experience for its users by enabling you to figure out difficult or seemingly impossible parts of a game with the tap of a button. On pressing the button, you will be directly connected to Google Assistant to whom you can explain your in game issue. It will then automatically check where you are stuck in the game and pull up relevant YouTube videos to help you overcome the difficult portion or task so that you can move on. While some people may like to take their time and figure out tough portions of the game on their own, this is a very helpful feature for many other gamers.
But you should know that the controller is optional and you can use any controller that you already own as long as it uses the HID standard. That is quite convenient and a relief!
WHEN WILL WE GET TO USE THE GOOGLE STADIA CONSOLE?
As of now Google has only said that the Google Stadia will be launched in select areas including United States, Canada, and Europe sometime this year only while the release dates for other countries and regions is yet to be announced. That said, more information regarding the Stadia is set to be delivered sometime June, somewhere around E3 announcements.
Much of the pricing model decision also depends on the amount of investment that is being made to actually build the content of the platform with exclusive games and services. According to certain reports, over $13 billion are being invested by Google for this purpose.
You can now try Google Stadia through their website.
At the end of the day, these are extremely exciting times for us to be living in, and the past few days in particular have been especially exhilarating for gamers and community viewers. However, it would be best to not get ahead of ourselves and wait for the piece of tech to actually hit the markets and then test it out since there is a big difference in a demo and the actual performance of the console in real time.
But there is little doubt in the fact that the future of gaming is within the cloud and most gaming platforms and console manufacturers are also looking to move in the same direction, albeit a bit slowly. Previous attempts at building a similar kind of platform have largely failed due to a multitude of issues such as lag time and latency as well as poor quality as opposed to what was marketed. While Google does say that it has addressed these issues and offered a viable solution, it remains to be seen what that looks like in actual practice. All we can do at this time is wait and see where this goes and experience the impact it has on the world once it does come out, if there is any to begin with. Needless to say, this will have prompted Google's competitors to pull up their socks and start creating very fast, very soon.
We have other Blog reviews that can help you on your search. Feel free to visit our Blog page for more information. Contact Us for product review request and inclusion consideration.
Disclaimer:
Blog Your Niche is a participant in the Amazon Services LLC Associates Program, an affiliate advertising program designed to provide a means for sites to earn advertising fees by advertising and linking to amazon.com. I may earn a small commission for my endorsement, recommendation, testimonial, and/or link to any products or services from this website.
This means if you click on an affiliate link and purchase the item, we will receive an affiliate commission. The price of the item is the same whether it is an affiliate link or not. Regardless, we only recommend products or services we believe will add value to our readers. By using the affiliate links, you are helping support our Website, and we genuinely appreciate your support.