Garage Man Cave Ultimate Tour | Garage Transformation to a Man Cave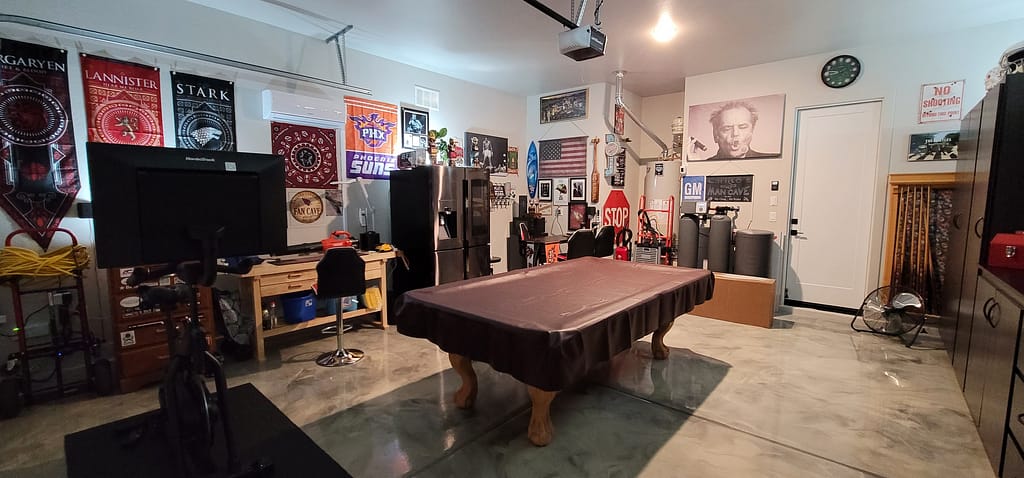 The Ultimate Garage Man Cave Tour: How to Transform Your Garage into the Perfect Hangout Spot
Do you want to turn your garage into the perfect hangout spot? Whether you're looking for a place to watch the game or just a space to relax, we've got you covered. In this blog post, we'll walk you through the steps necessary to transform your garage into the ultimate man cave!
Do you have a garage that's just sitting there, collecting dust? Maybe it's time to transform it into the perfect hangout spot! In this blog post, we will show you how to turn your garage into the ultimate man cave. We'll give you tips on everything from organization to decorating. So read on and get inspired to create your own space for relaxation and fun!
Your garage is a space that is just waiting to be transformed into the perfect man cave! With a few simple changes, you can create a space where you can hang out with friends, watch the game, or just relax after a long day. In this blog post, we will show you how to make the transformation and give you some ideas for decorating your new man cave!
It took me 3-4 months to complete the garage transformation man cave project. Check it out!
Hope you'll be inspired by my videos so you can start your own Man Cave Project. If you enjoyed the video, please subscribe and click the notification icon so you'll know when I upload a new video.
Subscribe to our YouTube Channel
First Step - Metallic Epoxy
Moving into a new home is always an exciting time. There are so many possibilities for how you can make the space your own. For me, the garage was the first project on my list. Since it was empty, I had a blank slate to work with. I decided to hire a local Arizona epoxy expert, Jesus of jandncontractingaz.com and go for a metallic epoxy finish.
I am so glad I did! The results were phenomenal. The garage looks amazing and is so easy to keep clean. Plus, we don't have to worry about parking our car in there anymore. It's become a space for us to hang out and entertain guests. I'm so glad we made the decision to go with epoxy. It truly transformed our garage into a one-of-a-kind space. You can contact Jesus @ (928)-848-9545.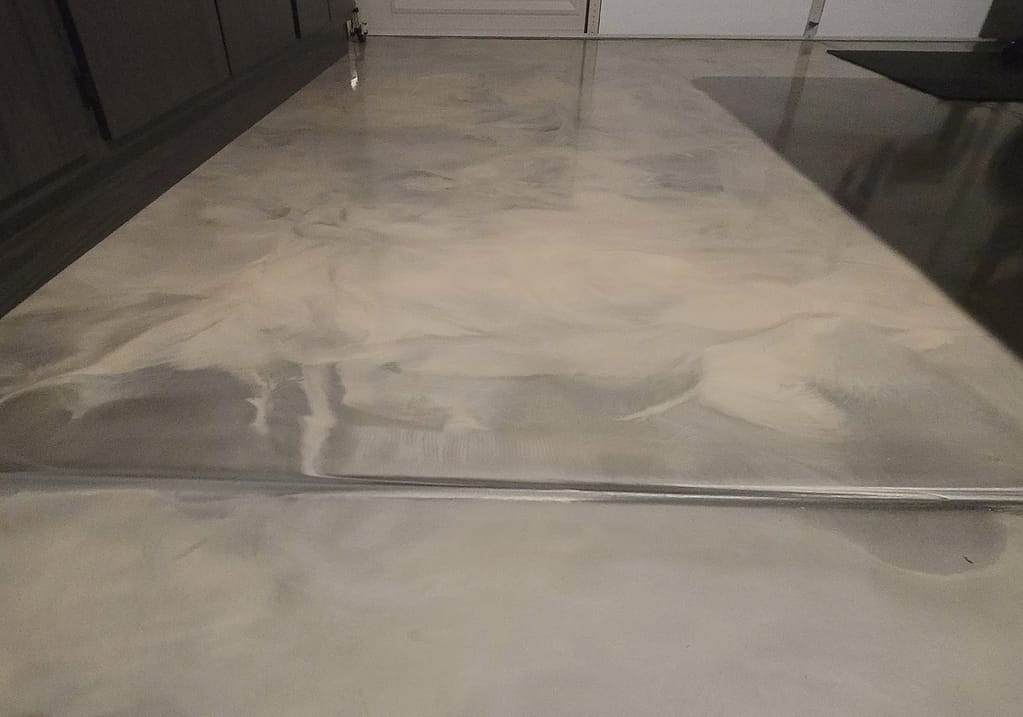 Sale
DJI Pocket 2 Exclusive Combo (Sunset White) - Pocket-Sized Vlogging Camera, 3-Axis Motorized Gimbal, 4K Video Recorder, 64MP Photo, ActiveTrack 3.0, YouTube TikTok Video, for Android and iPhone
Ready to Capture it All - DJI Pocket 2 fits perfectly in your hand, bag, or pocket, meaning that you're ready when your journey begins or something suddenly catches your eye.
Footage That Stands Out - With 4K/60fps video, 64MP photo, and 3-axis stabilization, DJI Pocket 2 allows you to capture stable footage that pops with life-like detail.
Focused on the Action - No matter how you move, DJI Pocket 2 keeps you and your friends in the shot with ActiveTrack 3.0.
Mini-Movies in a Tap - Story mode offers a variety of video and music templates as well as automatic editing tools to help you get inspired.
Born for Vlogging - Say goodbye to bad selfies and start shooting amazing vlogs with the 93° FOV and 20mm focal length.
Are you tired of being stuck inside all the time? Do you want a place where you can hang out with your friends and relax in peace? If so, then you need to turn your garage into a man cave! In this blog post, we will show you how to do just that. We'll provide tips on how to transform your garage into the perfect spot for relaxation and fun. So what are you waiting for? Start planning your man cave today!
Are you tired of your garage just being a place to store your car and tools? Do you want to turn it into the perfect hangout spot for you and your friends? If so, this blog post is for you! We will show you how to transform your garage into the ultimate man cave. With just a few simple changes, you can create a space that is perfect for relaxing and entertaining. So let's get started!
Garage Cabinets:
The next step in my garage makeover is to install new cabinets. I have a vision for this space, and I want to get the big projects like epoxy and cabinets out of the way so I can focus on the man cave items. The plan that I have for the cabinets is to make sure that there is a spot in the middle for a 75" inch TV.
I also wanted large cabinets for storage. I was able to find a local garage cabinet experts "Quick Response Home Services". I was amazed and satisfied with their cabinet design and how quickly they were able to install the new garage cabinets. Now that the Garage Cabinets are installed, it's time to focus on the next phase of the makeover!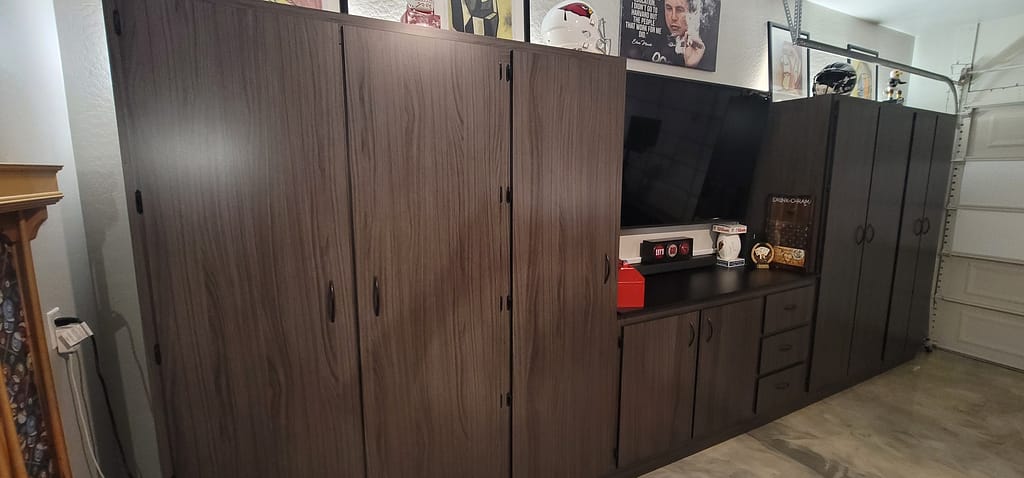 Pool Table
A close friend of mine "Kuya Nation" needed to clear out his garage, so he reached out to see if anyone would be interested in picking up his pool table. It was perfect timing, as I happened to need one for my man cave project.
The pool table was in great condition and came with all the accessories I needed, including balls, a rack, and pool sticks. I replaced the green felt with blue felt, and the results are spectacular. I also hired a local pool expert to install and level the table. Overall, I'm very happy with my new pool table. It's a great addition to my man cave and has given me hours of enjoyment.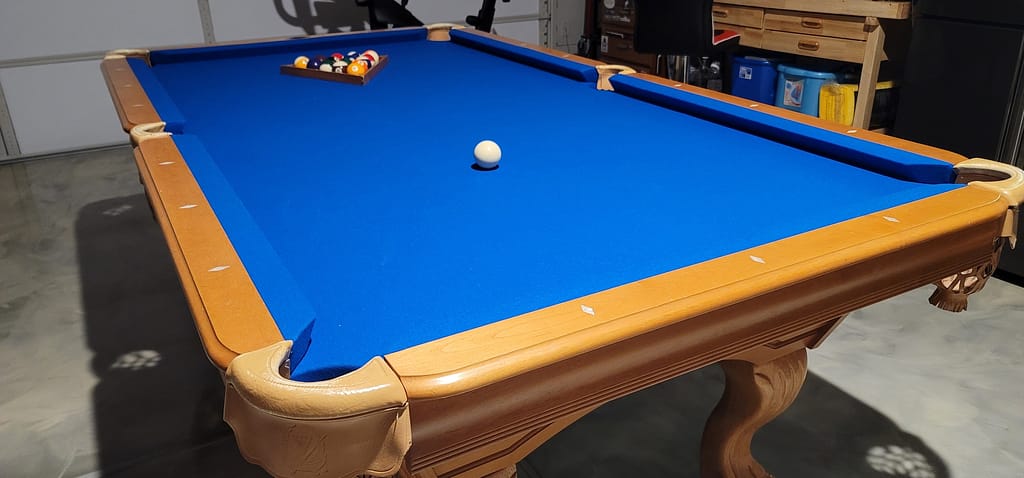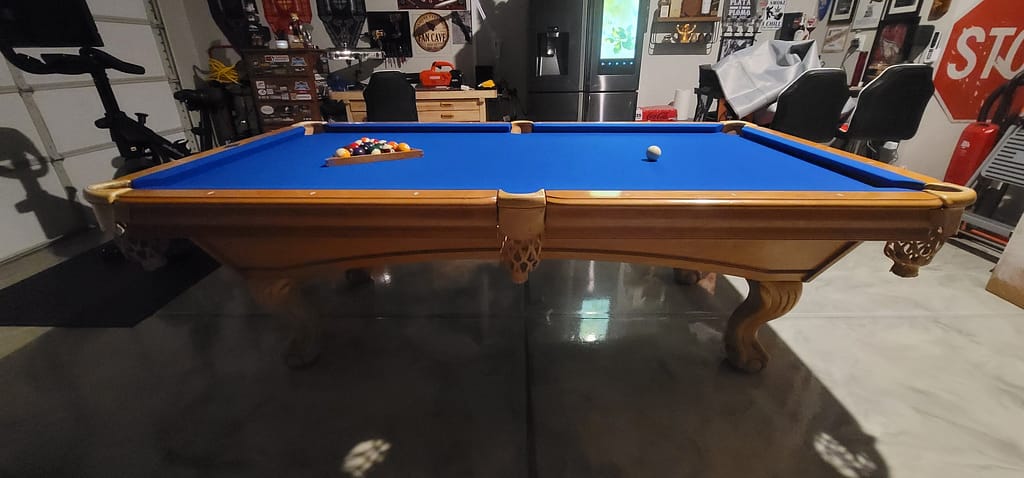 I was also able to pick up a Billiard Pool leather cover. Very durable cover and just fits exactly my 8 foot pool table. I was able to test it by accidentally spilling beer on top of the cover. The felt underneath did not get wet. Amazing product that I highly recommend.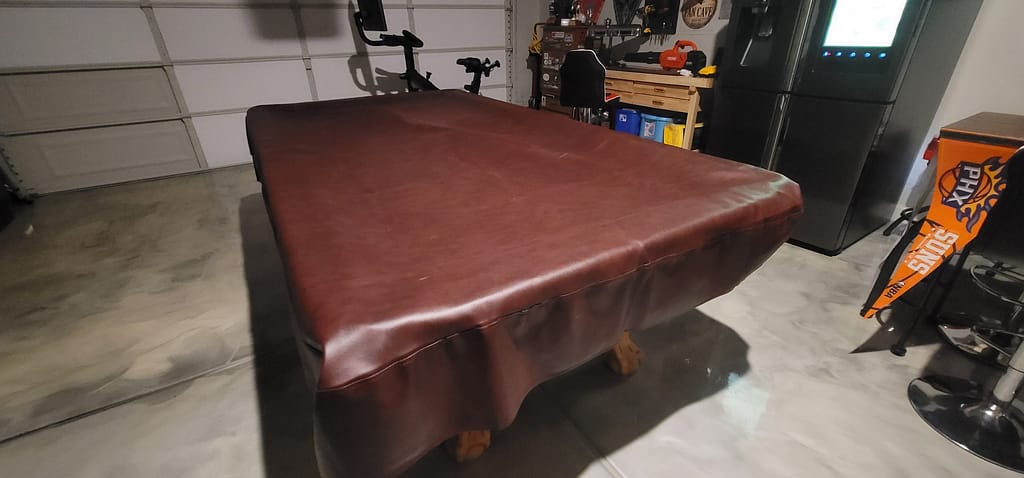 Kohree 8 Foot Heavy Duty Leatherette Billiard Pool Table Cover, Waterproof & UV Protection(Brown)
HEAVY DUTY POOL TABLE COVER—Made of quality Leatherette, this waterproof billiard table cover is durable, strong and environmental-friendly to protect your pool table from animal scratches, tears, dust, spills, and other possible external damages.
EXQUISITE WORKMANSHIP – Designed with weighted corners and sewn seams, this billiard table cover provides extended protection and extra durability for longer use.
8FT COVER—Dim: 100'' X 56'' X 8" (L x W x H), fits any standard pool table and air hockey table, perfectly protect your pool table when placing them in patio, yard or any outdoor place.
PRACTICAL & CONVENIENT--Wrinkle free cover, easy to clean. Helps effectively protect your table from humidity and damaging ultraviolet rays.
NOTE: If there is creases when you unfold your pool table cover, please not worry, it is just a natural side-effect of shipping. Please unfurl it on your pool table for a few days, it will go over time and gravity.
Products in my Garage Man Cave: HopElmo Personalized Your Name Custom Dual Color LED Neon Sign
DISCLAIMER:
Blog Your Niche is a participant in the Amazon Services LLC Associates Program, an affiliate advertising program designed to provide a means for sites to earn advertising fees by advertising and linking to amazon.com. I may earn a small commission for my endorsement, recommendation, testimonial, and/or link to any products or services from this website.
This means if you click on an affiliate link and purchase the item, we will receive an affiliate commission. The price of the item is the same whether it is an affiliate link or not. Regardless, we only recommend products or services we believe will add value to our readers. By using the affiliate links, you are helping support our Website, and we genuinely appreciate your support.